The new version d'accord 3.0 has been released. New features in this version of the graphical PDF comparison solution are among others:
Completely redesigned GUI with the aim of a simpler, more intuitive and effective operation
Input files appear in file trees, structured by file names and associated pages
Interactions with the file tree at various hierarchical levels (files/pages) with the context menu or by left clicking on the arrow icon
Zoom window with a three-part synchronous display of PDF A/PDF B/diffs following mouse motion in the main window and with highlighting of the zoom area in the overall view
Fast flashing between PDF A/PDF B to highlight deviations via the Alt key
New toolbar: zoom button (incl. "Resize to window"), toggle between PDF A/PDF B, filter to display deviations (accepted, unrated, rejected) and settings
Deviation pixels are circled for precise grouping with polygons instead previously with circles/rectangles
New toolwindow: tabular listing of all deviations for step-by-step reviewing, commenting and ordering
New toolwindow displays details of the imposition analysis as crosstabulation of items between PDF A/PDF B
New toolwindow with a histogram of the difference pixels for more precise determination of the setting Tproof
Import dialog for PDFs extended with PDF boxes including sizes (in mm) and an option for the function "Crop to largest segment"
New label scheme for items: A1.x, B1.x etc. to denote the input file A1, B1, … and the page number x
New project format with better compatibility between Mac OS and Windows, loading the old project format is still possible
New, additional report format: 1- or 2-sided short report with PDF annotations at locations with deviations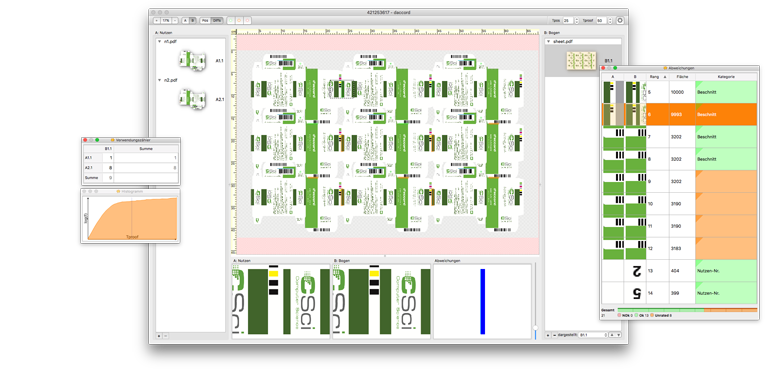 d'accord shows you quickly and safely all differences in graphics and text - as a contrast of the two PDFs and with highlighted deviations. This allows you to quickly verify post-process editing and to detect unintentional changes.
Applications of d'accord include packaging, folding cartons, blister cards, brochures and commercials.
d'accord is available as 64-bit version for Mac OS X and Windows. Both versions are based on the proven Adobe® PDF Library™. Business customers can request a free trial at http://www.csci.de/daccord/trial.