d'accord Pro
Forget printing errors. With the graphical PDF comparison for artworks and printing sheets.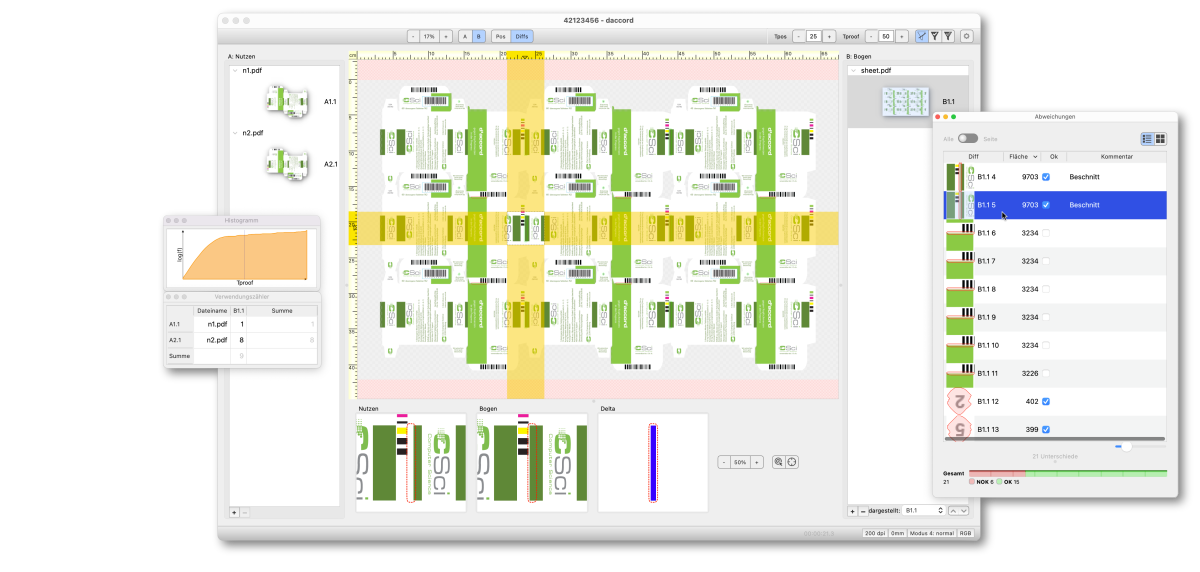 Save stress and costs in the prepress.
With d'accord you compare PDF files, e.g. customers PDF with the press-ready sheets. See all changes at a glance and avoid production errors before they cause costs or troubles.
Protect yourself reliably against printing errors.
You check your final print data against the originally submitted PDF files. Thus, you make sure that all required changes are present in your print data. And you make sure you that unintentional changes will be noticed. Most importantly, you compare the actual appearance of the print data.
Save money, time and stress of production errors.
You can detect mistakes as early as possible and remove them. You will see even the smallest changes reliably and without searching. Through digital image processing algorithms you get fast and objective results.
Shine with perfect products in front of your customers.
Because before printing, you show your clients at a glance which changes you have made to their artworks. To do this, you can create a test report as a PDF, which contains a clear graphical comparison with your comments.
Intuitive and efficient with state-of-the-art technologies.

Take advantage of your favorit work environment. And start immediately working with d'accord. State-of-the-art technologies such as the Adobe® PDF Library™ and the native 64-bit application guarantee reliability and performance at the highest level.
Your benefits
Protect yourself reliably against printing errors
Save money, time and stress of annoying production errors
Make sure that all required changes are present in your print data
Ensure that you notice unintentional changes
Convenient and efficiently use your usual working environment
Show your clients at a glance what changes you have made to their artworks
Shine with perfect print products in front of your customers
Applications
d'accord Pro is the ideal PDF comparison solution for your artworks: You can compare single form artwork with revised one-up. Or several gang forms against the imposed sheet. Of course, you can also compare whole sheets against sheets. Typical applications are:
Folded boxes
Blister cards
Packagings
Package inserts
Brochures
Flyers
Commercial printing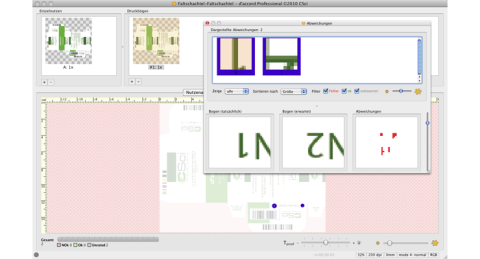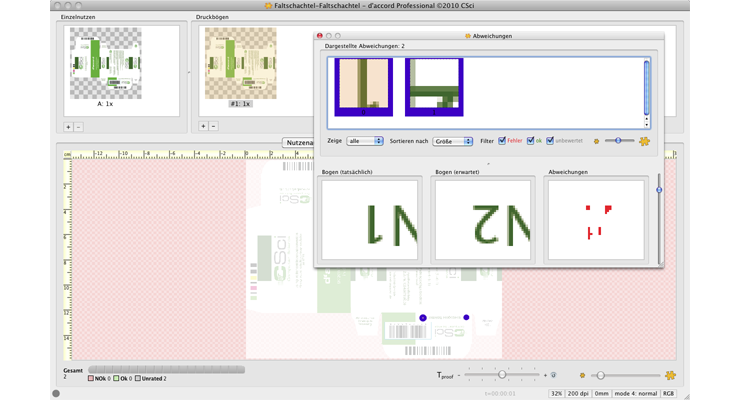 Comparison of a folding box with the revised folding box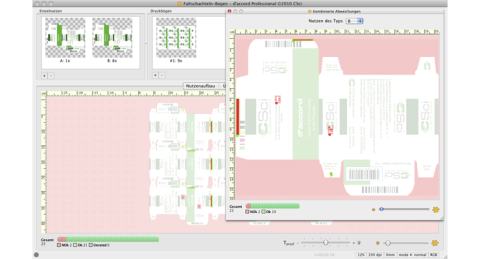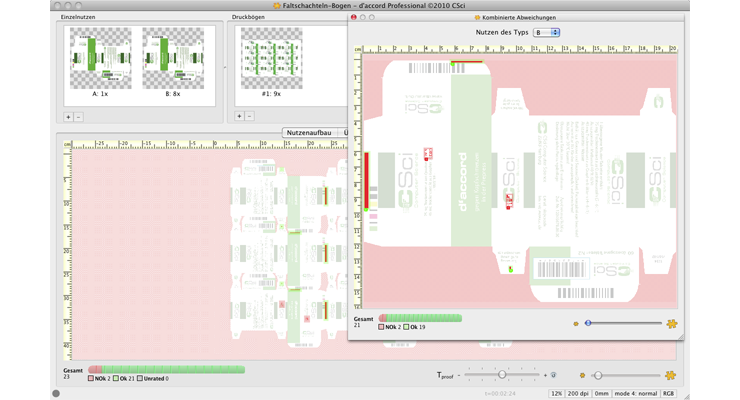 Comparison of multiple folding boxes with the printing sheet (gang form)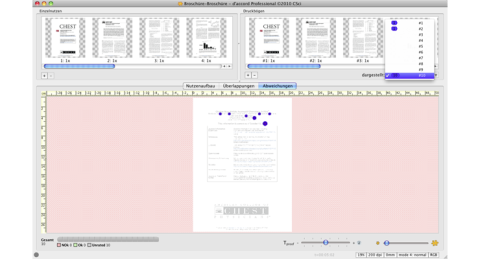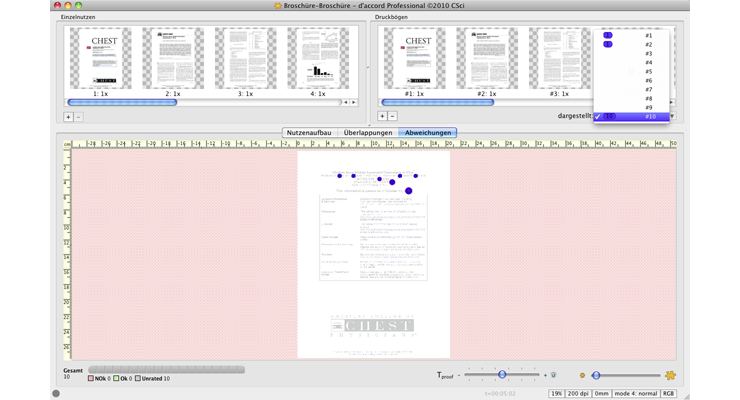 Comparison of a brochure with the revised brochure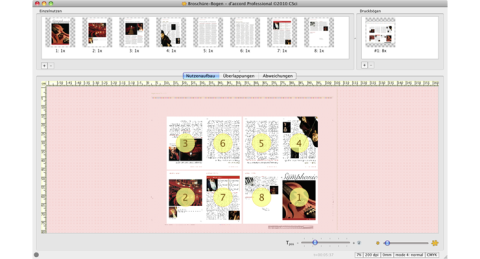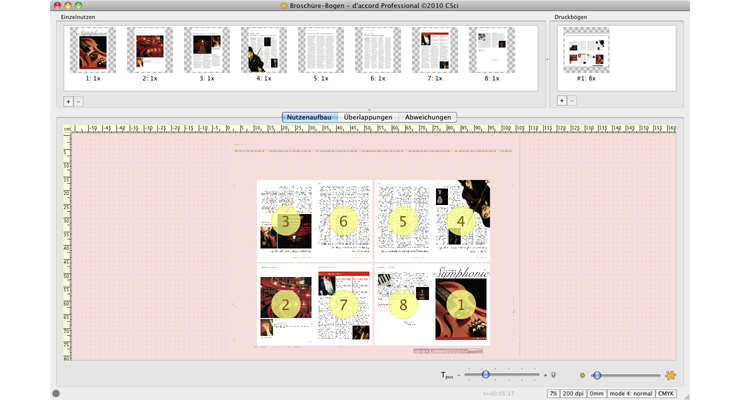 Comparison of a brochure with the imposed printing sheet
Key Features of d'accord
Display of visual differences in graphics and text
d'accord performs a visual comparison that shows you all the noticeable differences in graphics and text. The comparison is independent of the technical structure of the PDF, but refers only to the appearance, as it would be seen by a human viewer. Therefore, it does not matter if, for example, fonts are compared with paths or if the PDF has been changed by preflighting tools or PDF editors. For digital comparison, the PDFs are first rendered as a raster image using Adobe® PDF Library ™ and then compared using image processing algorithms.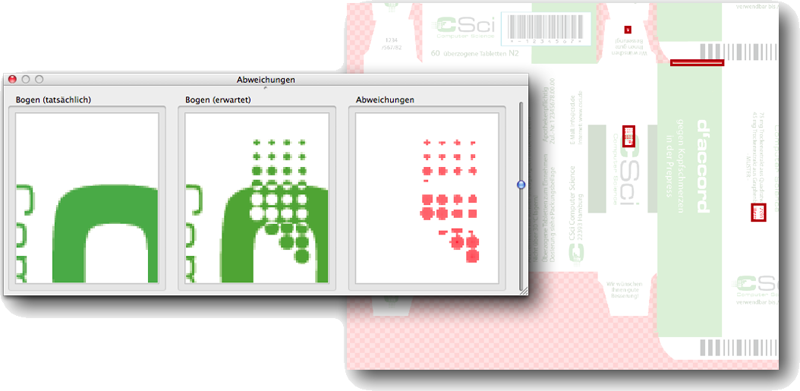 Comparison of shifted PDFs with non-aligned positions
With d'accord you can also compare PDF files whose positions are not constant - that is, PDFs that are shifted against each other. Initially, d'accord automatically determines the alignment of the PDFs with each other and precisely overlays the corresponding pages before the comparison.
Automatic search for forms on the printing sheet
A particular highlight of d'accord is the ability to compare multiple forms against entire printing sheet: d'accord finds position, rotation and repeats of one or more forms on the printing sheet. This works for simple imposition patterns (such as leaflets) as well as for complicated gang forms that you have created using step & repeat software (e.g. for folding cartons).
| | | |
| --- | --- | --- |
| | | |
| PDF page against revised version of the same PDF page | PDF page against imposed printing sheet | Multiple forms against the imposed printing sheet |
Multi-page PDF documents and series of PDFs
Of course you can also compare multi-page PDF documents with d'accord and jobs with several PDF files such as several printing sheets including perfecting.
Grouping of differences with adjustable tolerances
d'accord does not simply show you the deviations as a (possibly large format) difference image. For an optimal overview, d'accord groups adjacent pixels into larger shapes that you can review in different graphical views. A list view also allows you to step through all differences step by step so that no location can be overlooked by mistake. If desired, you can check off and comment on differences. In order to display only deviations that are relevant for you, you can adjust d'accord with tolerance parameters to your requirements.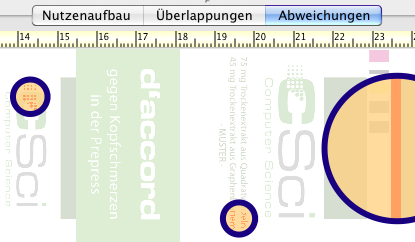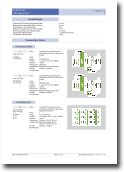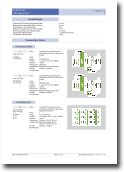 Proof report
You want to archive the results of d'accord to document your quality assurance? Or you would like to present the modifications between initial artwork and press-ready PDF to your client as an attachment to the form proof? Then you can use d'accord to create a clear PDF proof report with all the differences highlighted and annotated with your comments. Based on this report, your customers or colleagues will immediately find the relevant places on the form-proof that should be examined more carefully at the time of acceptance.
Freeform transform of PDFs
For the localization of individual forms on the printing sheet, the individual forms must first be properly cropped from the background. d'accord supports you with a variety of special features that facilitate the freeform transform. Especially for package printing, d'accord can automatically crop your form if you have a punching contour in a spot color or on a separate PDF layer. Simple forms can also be cropped by a predefined PDF box.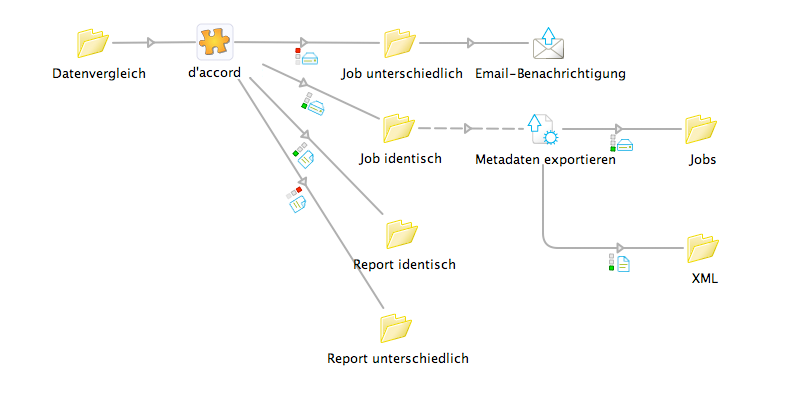 Automation
You want to integrate d'accord into your workflow or access it from other software systems? Through the CLI interface, the d'accord Workflow version allows operation as a command line program. So you can easily integrate the powerful PDF comparison into every imaginable automation solution.
Even without an existing workflow system, automation is possible: You can also use d'accord workflow with a hotfolder technique. In this way, you can create proof jobs at several workstations that are managed by a central queue. For larger file volumes, it is even possible to achieve scalable performance by running the queue concurrently on several d'accord servers.
Safe from the beginning
Distinguish right from wrong changes.
It is often a long way from the customer's artwork to the press-ready sheet. The submitted file goes through a chain of automatic and manual processing steps in the prepress. Do you ask yourself how to make sure that all intended changes exist and at the same time no unintentional differences remain undetected? d'accord helps you to detect both types of changes reliably and efficiently. So, you can verify at a glance whether everything is in order.
Digital precision.
d'accord performs an accurate image-based comparison between sheet and items. The use of digital data guarantees high precision results and an always consistent "attention". The comparison works for all languages and fonts.

Advantage through know-how.
d'accord is based on scientific approaches and many years of experience in the field of computer vision. Benefit from this knowledge by a clear advantage over your competitors who work only with an error prone visual review process.



Check before production errors become costly.
With d'accord you detect potential production errors before plates are produced, before valuable machine time is spent and before the first sheet of paper is printed. Because the check is targeted at the first step of the production chain. This saves time and money.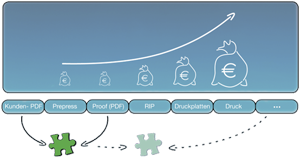 Relax yourself.
In a hectic time, where increased customer demands and tight economic requirements call for best services, it is more important than ever to calm down and relax. With d'accord you ensure that you only give print approval to correct masters. Save yourself unnecessary stress.
Our 10 insider tips are the condensate from years of work in the field PDF comparison and the feedback from renowned customers in all industries. We are happy to share this secret knowledge with you.