ChkBarcode
The early warning system for barcode printing: Check barcodes directly in your press-ready PDFs.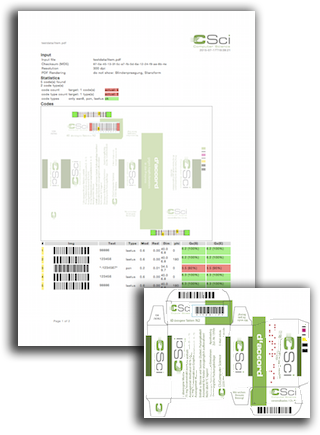 Barcodes do not forgive any mistakes.
Are you creating or reworking print artworks with barcodes? Your barcodes control machines later - and they do not forgive any mistakes. Now just do not get nervous!
How can you be sure?
Do all barcode types fit into your artwork? Are the dimensions and quiet zones correct? Is a barcode possibly only a "dummy" created with any generator from the WWW? Has the printing sheet uniform codes or is there an item different? Were the codes generated with the appropriate bar width reduction?
The sooner you discover errors, the cheaper they can be corrected.
Normally, you will find errors in the final inspection: this is the only way to measure ink application and effects of machine and substrate. You should not do without final inspection - but you can discover many problems and fix them inexpensively before the machine starts.
With ChkBarcode, you automatically check your press-ready PDFs.
ChkBarcode finds 1D and 2D barcodes, determines the type, reads the content, measures the quiet zones, checks the dimensions, measures the barcode elements, and determines the bar width reduction - using the Adobe® PDF Library ™ and print resolution. Then your requirements decide whether the codes are good for printing. With ChkBarcode, you create a QA report and use the results to control your workflow.
You produce with your expertise …
… exactly as your customer needs the printing. Usually, you do not simply print what a customer delivers. ChkBarcode helps you solve problems before they go to print. This saves time, effort, material and your money, and protects our environment.
Check barcodes professionally.
With ChkBarcode, you can quickly and safely check the quality of the barcodes in your PDF artworks. The test includes, among other things, the following properties and values ​​relevant to printing:
Automatic detection of all barcodes present in PDF
Type and number of barcodes
Clear text of the encoded content
Position and size
Correctness of codes (e.g. regarding checksums)
Measurement of the module widths
Measurement of bar width reduction
Compliance with quiet zones
Equality of multiple code instances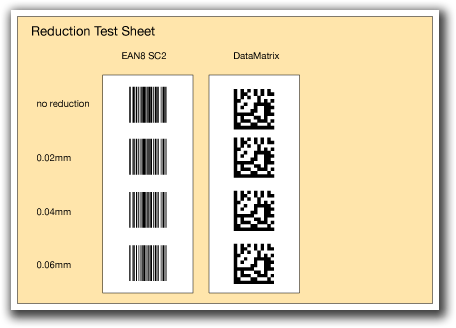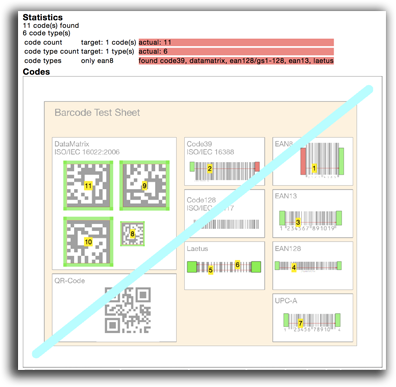 Just right for your barcodes.
ChkBarcode is the ideal solution for testing all common 1D and 2D bar codes:
EAN-8
EAN-13
EAN-128 / GS1-128
UPC-A
PZN
Code39
Laetus
MSI
gluing machine codes
Datamatrix
QR
Additional code types on request
Automation for high data volumes.
If you need to check large document volumes, ChkBarcode can be completely automated, either within existing workflow systems or integrated into your own development.
Automation via CLI interface
Do you plan to integrate ChkBarcode into your workflow or call it from other software systems? Through the CLI interface, ChkBarcode may be operated as a command line program. Hence, you can integrate the powerful barcode check seamlessly in every possible automation solution.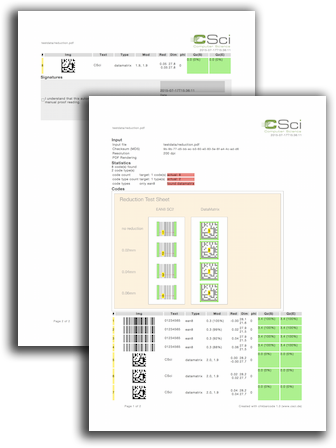 Powerful features.
ChkBarcode provides powerful features for checking and measuring barcodes in PDF files.
64-Bit technology.
To ensure optimal performance and stability with ChkBarcode, the software is completely based on modern 64-bit technology. Together with the complete use of parallel processing you benefit directly from the full computing performance of your multicore CPUs in current computer architectures. ChkBarcode is available for Windows 64-bit or Mac OS X operating systems.
Proof reports as PDF or XML.
ChkBarcode documents for you all the results of the barcode check in a detailed and clearly comprehensible PDF report. If desired, it is also possible to generate the output for machine processing in portable XML format.
Automation.
Examination of large document volumes or integration into workflow systems by CLI call.
ChkBarcode uses the Adobe® PDF Library™.

PDF is a global standard for reliable electronic documents and ISO standard for archiving electronic documents. The Adobe® PDF Library™ ensures a platform-independent, accurate display and reliable and consistent text analysis.
The new ChkBarcode version 2.2 is now available. New features in this minor release of the barcode verification system include among others: …
The new ChkBarcode version 2.1 is now available. New features in this minor release of the barcode verification system include among others: …
The new ChkBarcode version 1.3.3 is now available. New features in this minor release of the barcode verification system include among others: …
Our 10 insider tips are the condensate from years of work in the field PDF comparison and the feedback from renowned customers in all industries. We are happy to share this secret knowledge with you.