The new version Diff GT 3.1 is available for download. The latest release of the PDF comparison software for circuit diagrams and technical drawings includes the following changes:
NEW: View in the main window can be changed by a new toolbar button A|⌀|B. By default, the button is set to ⌀ and an overlay of version A and version B is displayed in the main window. Alternatively, the new toolbar button can also be used to switch the view between version A or version B.
NEW: Exclusion areas take into account the paper format

When creating exclusion areas, the paper format of the corresponding page is automatically saved.
If a page range of several pages is then selected via the context menu (right-click) Valid for… (e.g. 1- for all pages), the exclusion area will only take effect on other pages that have the same paper format.
Similarly, in batch mode when using the argument --areas=excl.xml, the paper sizes of the exclusion areas stored in the XML are also automatically taken into account.
The menu item Copy to similar pages has been removed.

NEW: Under Settings > PDF > Textextraction Flags a new flag add unicode CMAPs has been added (turned off by default). In some cases, the flag can be used to repair defective text extraction in PDF files if illegible characters are extracted due to fonts with incorrect encodings.
NEW: Tooltips for text differences show special characters in Unicode representation U+xxxx
NEW (Add-On Batch): New arguments for the command line call --ox=report.xml and --saveas=project.diffgt
Fix (Add-On Batch): Settings loaded with --settings did not take effect
Fix (Windows version): Memory size (stack) increased for processing of extremely large PDF files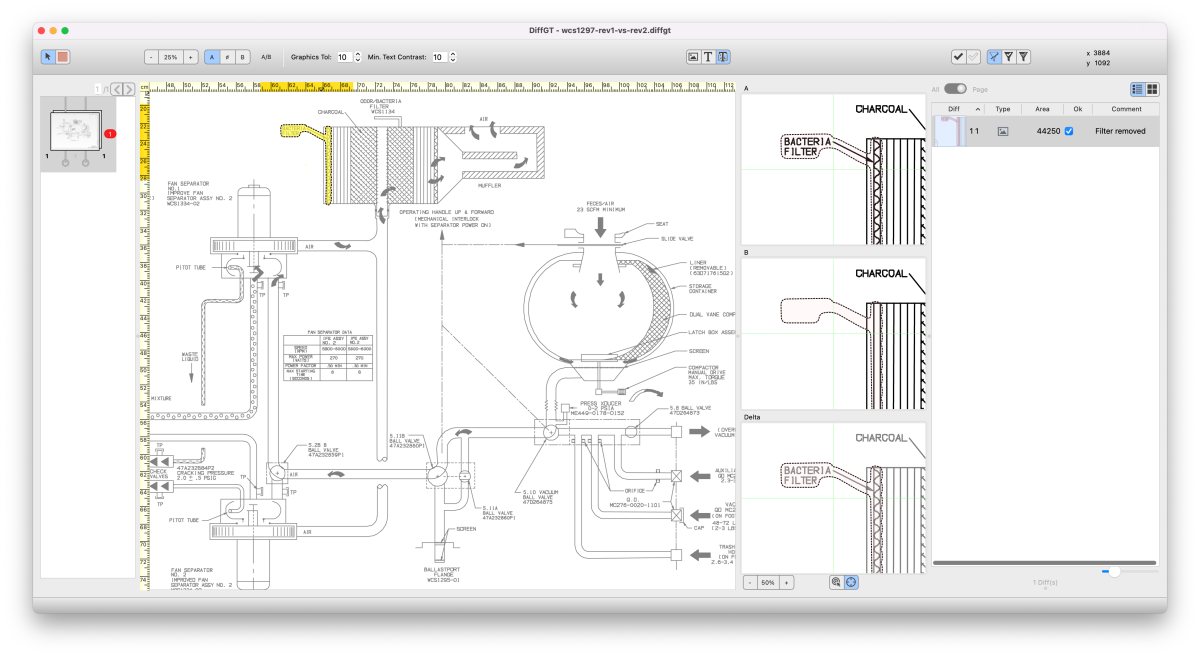 Diff GT 3.1: PDF comparison for circuit diagrams, technical drawings(CAD), blueprints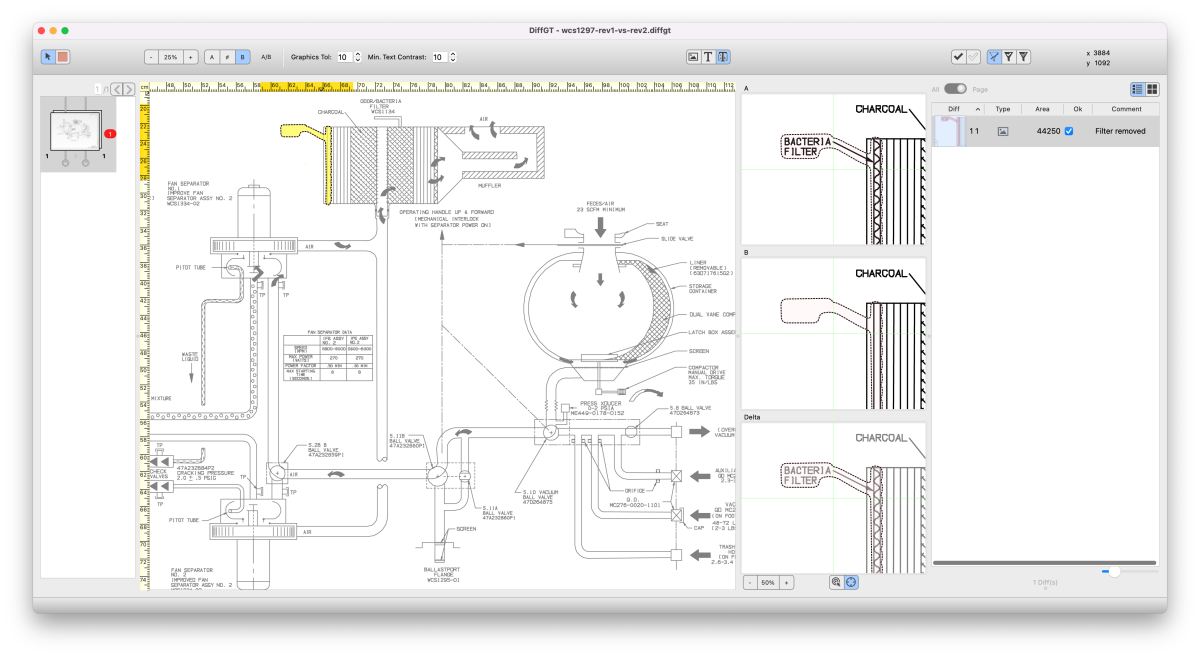 Diff GT 3.1: PDF comparison for circuit diagrams, technical drawings(CAD), blueprints
With Diff GT, you compare circuit diagrams and technical drawings for differences. You can see all changes in seconds, even with hundreds of pages. With the digital comparison, you will not miss even the smallest difference on the largest paper size. You can compare PDF files with different numbers of pages. Diff GT automatically synchronizes related pages. Even versions with shifts or scaling of the page format are no problem: For this Diff GT has a special registration function. You can export the comparison result in a clear PDF report.
Applications include among others: Circuit diagrams, technical drawings, design drawings (CAD) and blueprints.
Diff GT is available as a 64-bit version for Window and Mac OS X. Both versions are based on the leading PDF technology of the Adobe® PDF Library™. Try Diff GT now: free trial version at https://www.csci.de/en/diffgt/trial.