PDiff Professional released
The new software PDiff Professional is aimed at business users who want to compare document revisions with the original text quickly and reliably.
The text-based PDF comparison with PDiff Professional works even if the layout has been heavily modified: changes in fonts, text wrapping, hyphenation, page breaks, and column layout is not a problem for PDiff Professional. Thus, you can even compare copy text with print-ready layouts.
Some applications of PDiff Professional are among others: important business documents, technical manuals, legal documents and contracts, financial reports, manuscripts and scientific works, in which the amount of textual revisions is to be determined precisely.
The computer-based PDF comparison has significant advantages over a manual document comparison: PDiff Professional works flawlessly, quickly, objectively, consistently and efficiently.
The main features of PDiff Professional include:
Efficient and reliable PDF text comparison. Shows all text differences (changes, additions, deletions) between PDF files even with different layout.
Synoptic text display: side-by-side display of corresponding text passages with changes highlighted.
Synchronized display of PDFs: find corresponding words in the two documents by hovering with the mouse.
Automation for testing large document collections.
Comparison reports as PDF or XML: Changes and/or similarities are documented with position, text and page view comprehensibly and unambiguously.
PDiff Professional is available as 64-bit version for Mac OS X and Windows. Both versions are based on the proven Adobe® PDF LibraryTM. Business customers can request a free trial at https://www.csci.de/en/pdiff/trial.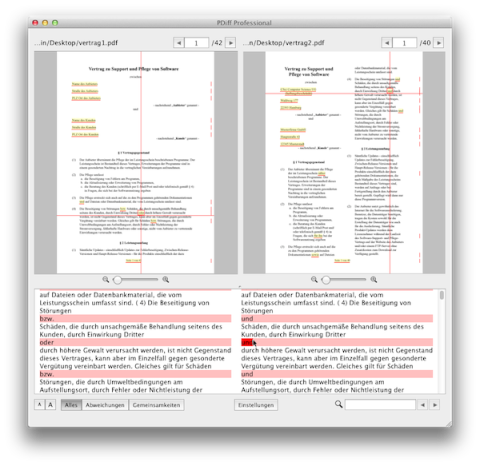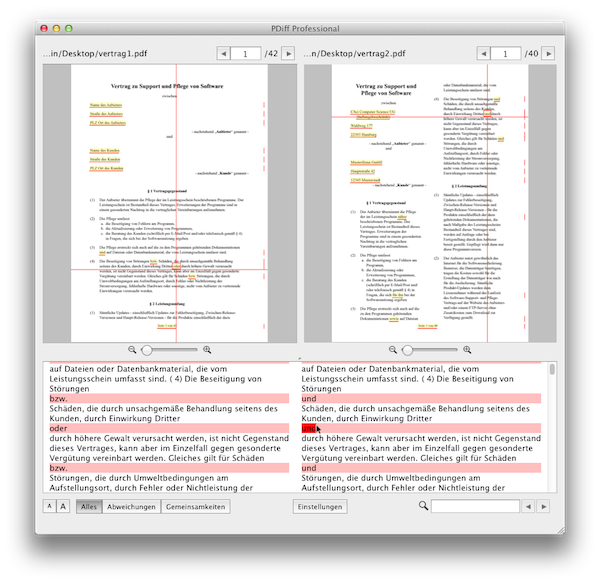 Comparing PDF with PDiff Professional