The new version PDiff 3.3 has been released. New features in this release of the text-based PDF comparison solution are among others:
NEW (Mac version): First release as Universal 2 Binary for Intel x86-64 processors and ARM64 Apple Silicon M1 / M1 Pro / M1 Max (for macOS 10.14 to 12.x)
NEW: Recognition of underline and strikethrough with a completely revised approach (improved detection of thin hairlines and less contrasting or colored lines)

To switch the function on, as before, settings are required in two places:

Activate the flag underline recognition under Settings > PDF > Text Extraction Flags
Turn on the option Settings > Comparison > Font Attributes must match and in the corresponding list PDF Text Attributes activate the flags strikethrough and underline

NEW (Mac version): Import filter for Word documents also imports *.odt files
NEW: Function Clipboard > Append in addition to the existing function Clipboard > Paste (renamed from Paste Clipboard)
NEW: Layout of the tabular report improved (Menu item File > Save Report and File > Print Report)

Added a title page
Vertical red bars for differences (column Comments)
Fixed some minor layout issues

NEW: Margins and base font size adjustable for all reports (Settings > Report > Margins and Settings > Report > Base font size)
NEW: Layout of the thumbnails in the main window improved
NEW [Pro]: Menu item File > Export > HTML
Fix: Function Paste Clipboard could generate duplicate or hidden text at page boundaries
Fix: Copy PDF comments from PDF A or PDF B to report Annotated PDF A+B
Fix: Function of the two options diffs_to_paragraphs and simple_repl_only under Settings > Comparison > Extraction > Options restored
Fix: Solved issues with PDFs containing images as Inline Images
Fix: Column widths of the tabular report according to column widths on screen
Fix: Position of exclusion areas in the report Annotated PDF A+B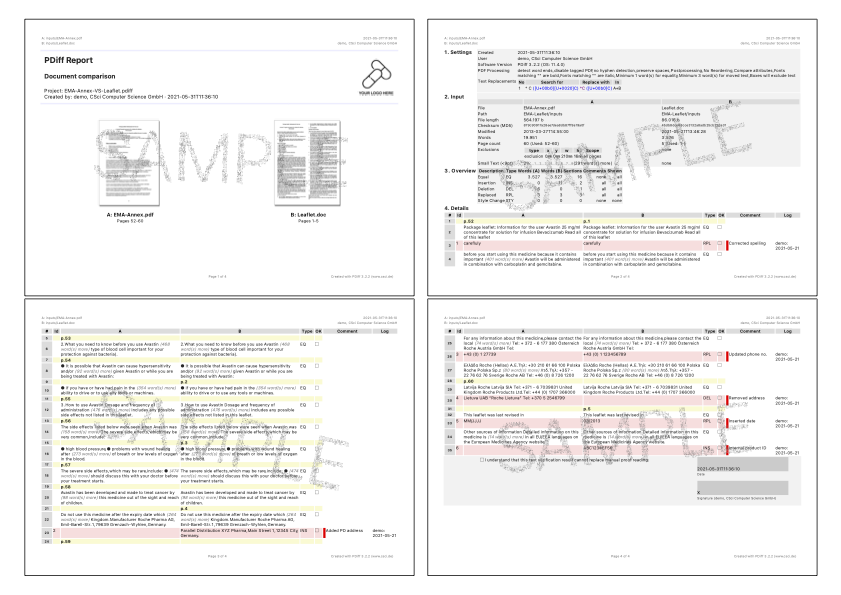 PDiff shows you quickly and safely all text differences between two PDF documents – as a comparison of the two PDFs and with markings of the deviations. So you can check intended revisions quickly and find unintended changes at first glance.
PDiff easily outperforms document comparison with the naked eye in terms of speed and precision: a human reader achieves an average reading performance of 200 words per minute with an error detection rate of 75%. On the other hand, PDiff manages about 400000 words per minute – that's 2000 times faster – and above all it works tirelessly with 100% accuracy.
Applications of PDiff are among others: legal documents and contracts, pharmaceutical packaging and medical leaflets, important business documents, technical manuals, financial reports, manuscripts, book texts as well as price lists and catalogs.
PDiff is available as 64-bit version for Windows and macOS. Both versions are based on the proven Adobe® PDF Library™. Business customers can request a free trial at https://www.csci.de/en/pdiff/trial.