The new version PDiff 3.4 has been released. New features in this release of the text-based PDF comparison solution are among others:
NEW: For new installations, the license key can be read from a configuration file install_pdiff.xml in order to avoid typing in the license key manually (see manual at https://www.csci.de/doc/pdiff/pdiff_de.html#sec-install-xml)
NEW: Improved XML output format to facilitate import into Excel. The entire subtree <text> can now be imported directly into a worksheet with the Excel menu item Developer > XML Maps.
NEW: Batch processing extended with the output format CSV. In the GUI, you can use a new switch for the CSV output format. When calling from the CLI, you can use the new argument --rc.
NEW: Import of XHTML (text content from all HTML tags), esp. for the comparison of annual financial reports in XBRL
NEW: Logo under Settings > Report > Logo image is no longer saved as a file name, but as an embedded image (advantage: availability when exchanging projects or setting profiles between different users or computers)
NEW: Dialog Keep comments/OK checkmarks when reinserting a PDF into an existing project
Fix: Replace function with regular expressions for special characters (for Unicodes with multibyte UTF-8)
Fix: Possible crash in the replace function if U+0020 (spaces) were extracted in PDF words due to incorrect fonts
Fix (Mac version): Crash on start of a regular license (non-floating)
Fix: Omission of moved text in comments of annotated PDF reports only if the option Settings > Comparison > Analyze moved text blocks is switched
Fix (Mac version): macOS request for user permission to start import filters (e.g. Word import) via AppleScript. Settings can be reviewed in macOS under System Preferences > Security & Privacy Privacy > Privacy > Automation
Fix (Windows version): Fixed a possible crash when generating reports for very large PDFs
Fix: Text replacements with complex search patterns could yield to empty words or program aborts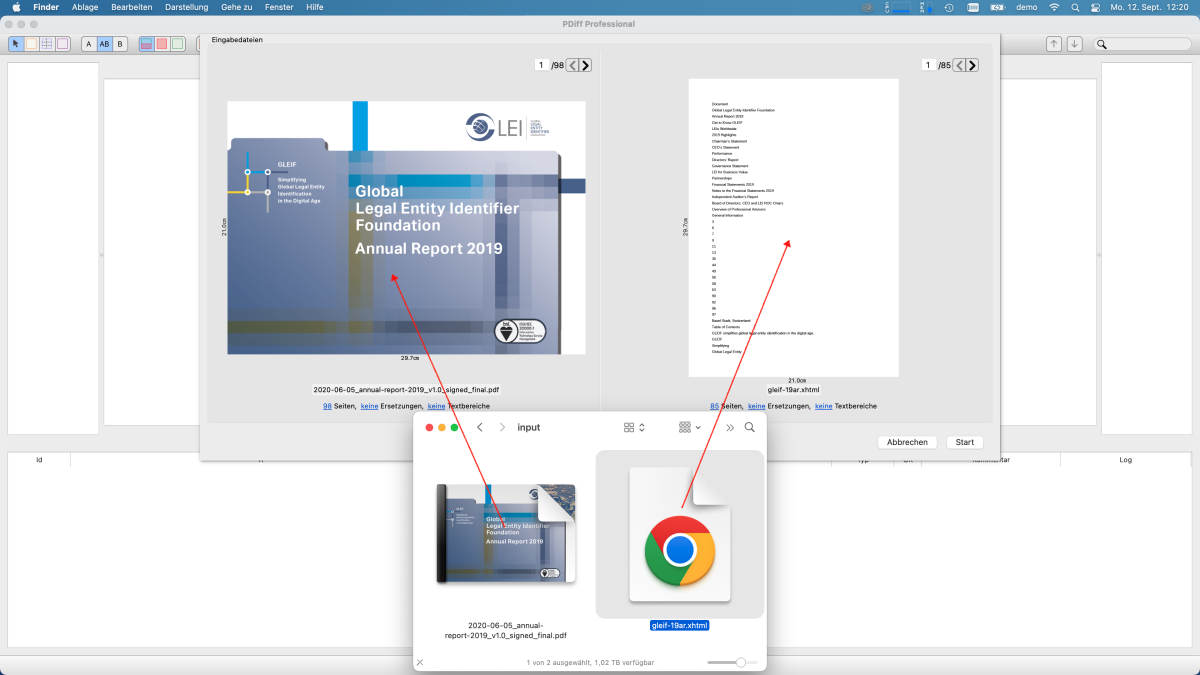 Comparison of annual reports with PDiff (1/2): Import of PDF and XBRL (*.xhtml)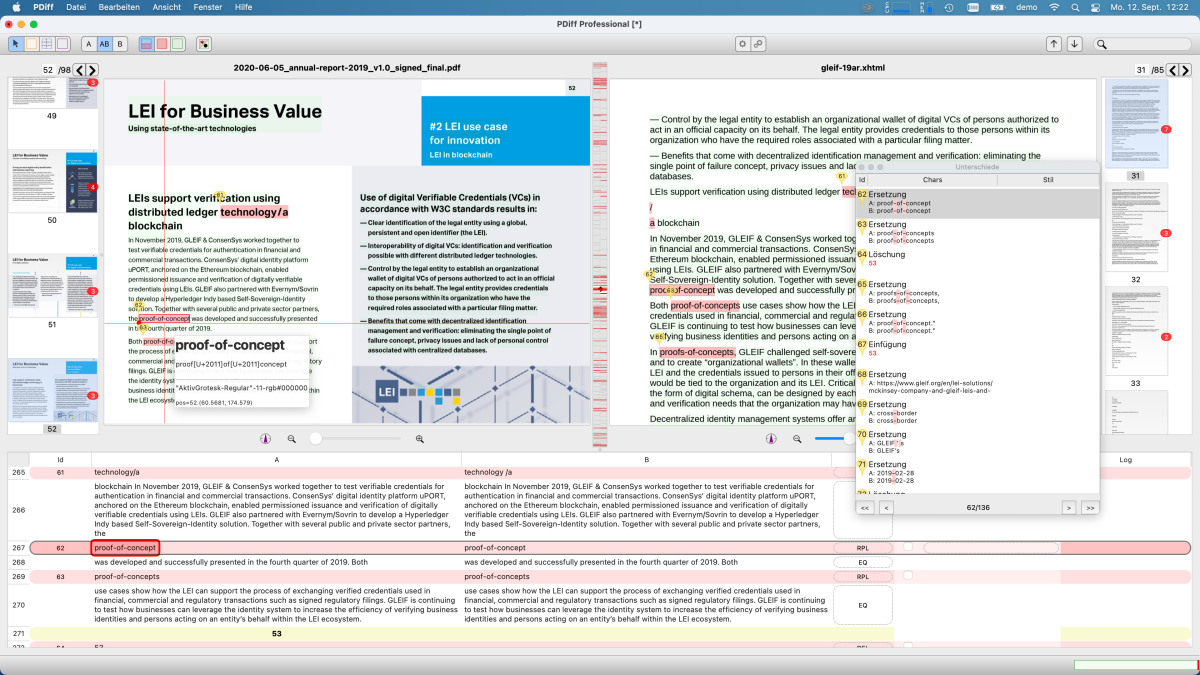 Comparison of annual reports with PDiff (2/2): Result of the comparison PDF vs. XBRL (*.xhtml)
PDiff shows you quickly and safely all text differences between two PDF documents – as a comparison of the two PDFs and with markings of the deviations. So you can check intended revisions quickly and find unintended changes at first glance.
PDiff easily outperforms document comparison with the naked eye in terms of speed and precision: a human reader achieves an average reading performance of 200 words per minute with an error detection rate of 75%. On the other hand, PDiff manages about 400000 words per minute – that's 2000 times faster – and above all it works tirelessly with 100% accuracy.
Applications of PDiff are among others: legal documents and contracts, pharmaceutical packaging and medical leaflets, important business documents, technical manuals, financial reports, manuscripts, book texts as well as price lists and catalogs.
PDiff is available as 64-bit version for Windows and macOS. Both versions are based on the proven Adobe® PDF Library™. Business customers can request a free trial at https://www.csci.de/en/pdiff/trial.