The new version PDiff 3.6 has been released. New features in this release of the text-based PDF comparison solution are among others:
NEW: The file size of generated PDF reports can be reduced using the integrated Adobe PDF optimizer: Settings > Report > Reduce PDF File Size
NEW: Layout of the tool window Differences revised
NEW (Mac version): Optimizations for parallel processing on Apple silicon M1 / M2
NEW: App icon modernized
NEW (Mac version): Under Settings > App > OCR User Dictionary a text file can be selected which contains a dictionary of user-defined words for OCR text recognition (format: one word per line).
Fix: Display of replacements in the tool window Differences
Fix: In the XML output format, illegal characters are replaced by Unicode U+FFFD
Fix (Windows version): Memory size (stack) increased for processing of extremely large PDF files
Fix: Suppress dialog Transfer licence for batch processing
Fix: Smaller bug fixes and optimizations for speed and memory consumption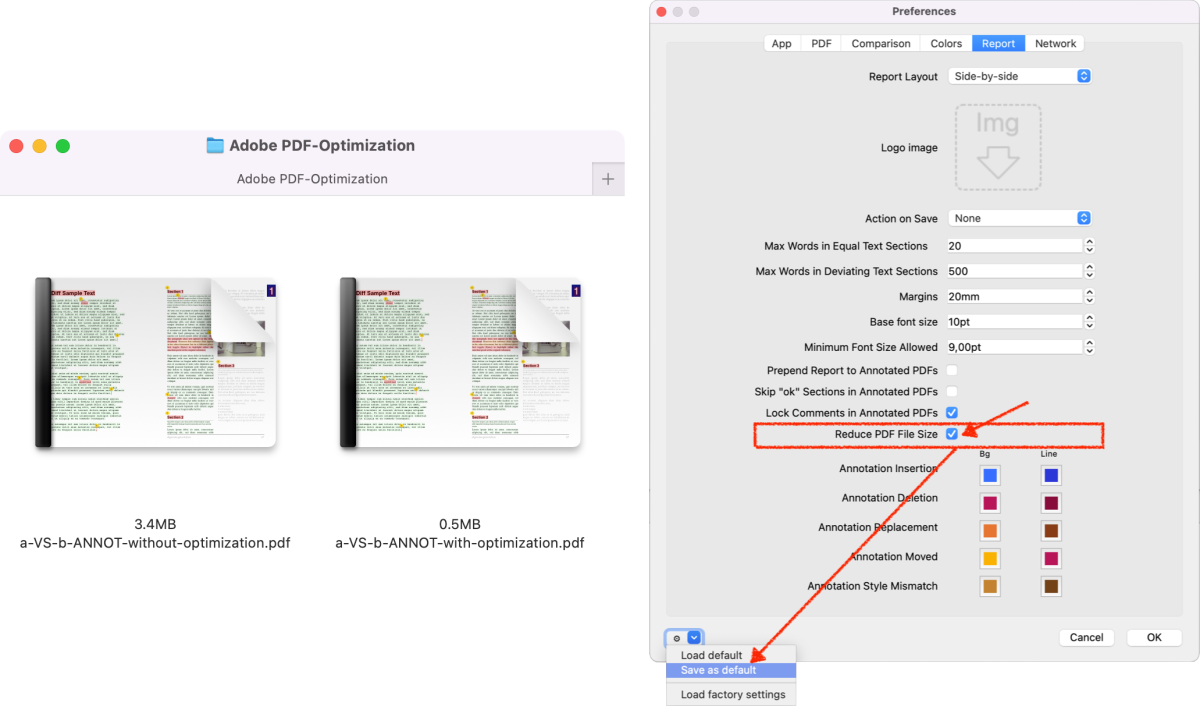 Compression of PDF reports with the integrated Adobe PDF Optimizer
PDiff shows you quickly and safely all text differences between two PDF documents – as a comparison of the two PDFs and with markings of the deviations. So you can check intended revisions quickly and find unintended changes at first glance.
PDiff easily outperforms document comparison with the naked eye in terms of speed and precision: a human reader achieves an average reading performance of 200 words per minute with an error detection rate of 75%. On the other hand, PDiff manages about 400000 words per minute – that's 2000 times faster – and above all it works tirelessly with 100% accuracy.
Applications of PDiff are among others: legal documents and contracts, pharmaceutical packaging and medical leaflets, important business documents, technical manuals, financial reports, manuscripts, book texts as well as price lists and catalogs.
PDiff is available as 64-bit version for Windows and macOS. Both versions are based on the proven Adobe® PDF Library™. Business customers can request a free trial at https://www.csci.de/en/pdiff/trial.